Organization and Functions
Home
>
Introduction
>
Organization and Functions
Organization Chart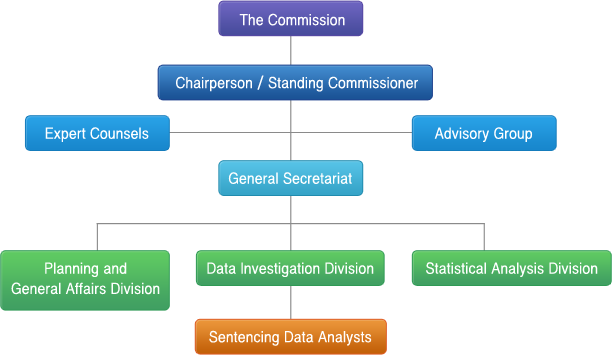 Commission
The Commission is a decision-making body that consists of 13 Commissioners including one Commission Chairperson. The Commission finally resolves and enforces new or revised sentencing guidelines, and determines other important items related to operation of the Sentencing Commission.
Expert Counsels
The Commission Chairperson commissions 15 or less expert counsels to perform the tasks of survey and study for the items required for the Commission's activities. The expert counsels prepare the drafts for sentencing guidelines to be submitted to the Commission, and conduct survey and study tasks for other items requested by the Commission.
Advisory Group
The Commission Chairperson commissions 50 or less advisors among experts in individual areas such as law, journalism, education, civil groups, etc. When requested, the advisors shall submit their own opinions on the sentencing guideline plans or other sentencing policies.
General Secretariat
The general secretariat is a body processing general office works where about 30 court officials work including a judge as the head of the general secretariat.